Overview

The operation of MAODV is analogous to the operation of AODV. Multicast routes are discovered on demand. The multicast route request is broadcast similar to the unicast route request, and the route reply propagates back from the nodes that are members of the multicast group. The MAODV Internet draft describes in detail the operation of MAODV.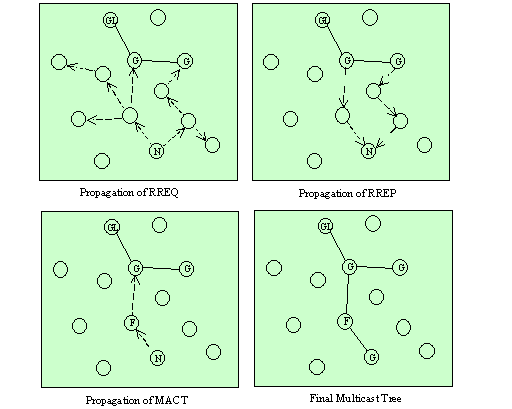 Implementation Details
Based on AODV-UU v0.6/v0.72
The -DMAODV flag in the makefile can be used to turn on/off MAODV code,
without the flag in the makefile you should be able to run default AODV-UU code.
Has been tested on IPAQs and cerfCube (strongARM based devices) and ofcourse laptops with orinoco 802.11b cards
This MAODV patch has not yet been integrated with ns2, if you are interested in adding this functionality, please send me email at the address below
Multicast gateway support and some minor modifications to the unicast gateway code is now available in the newer patches. Gateway support was implemented/tested with OSPF/MOSPF code from www.ospf.org. Please see this document regarding some of our assumptions, and some configuration instructions and other details to get MOSPF and MAODV to interoperate.
Download
Download basic MAODV patch from here: patch-maodv-umd-0.6
For multicast gateway support use the following patches:
The multicast gateway patches incorporate the earlier basic MAODV patch

Copy the patch into a AODV-UU src code directory and then use:
patch -p2 < my_patch_file_name
Report patches/bugs/thanks to maodv-umd@mail.cshcn.umd.edu


---
Copyright(c) CSHCN, University of Maryland, 2003